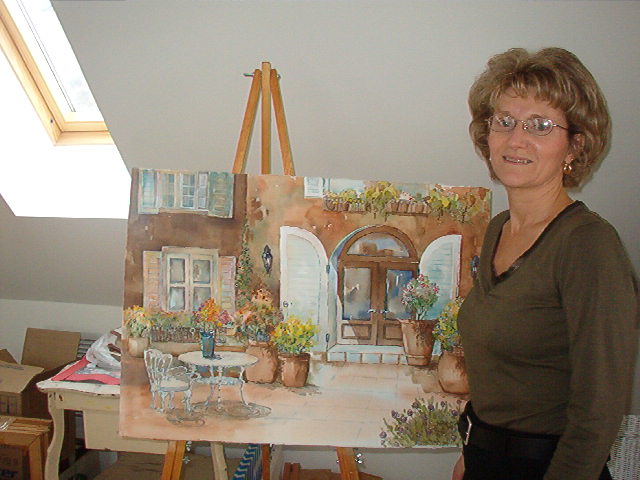 Artist-In-Residence Projects
part of the WorldArtTours.net Sharing Their Gifts Project

Sample Details for Setting up Artist-in-Residence Projects
Artists from around the world will be invited to participate in residencies
in group accommodation with workspace setup.
They will be required to share their artistic gifts and knowledge with the community
by offering a minimum of the equivalent of around a half day per week
in meetings, lectures, classes, and workshops
to the local community
while spending time each day engaging in their own work
and living with other artists.
Artists would be encouraged to also donate at least one work of art
to the local program
for exhibition and fund-raising.
The people, town, businesses, government agencies, and educational resources of local communities
are asked to welcome visiting artists, to engage them in lively interchange,
and to take opportunity to share their local knowledge.
Artists are asked to share in their love for the creation of art.
Visiting artists are asked to be inspired by the unique beauty of each region,
to respect and accept the kindnesses and stories of the local people
while they work to foster a relationship with the people in the many lands of the earth,
contribute to the artistic, social, and economic development of the local area,
and share in the pleasure that artistic expression brings.
to create Artists-in- Residence Projects around the Globe.
For more information or to list your project

Individuals, businesses, and agencies are asked:

to please support the
Artists in our Town Sharing Their Gifts program,
by making contributions in funding, materials, or labour.
Artists teaching materials and resources are expensive.
We would like to supply students
not able to provide their own materials
with at least a basic art materials.
Others able to, may purchase their art supplies.



Artists are asked to:
-provide minimum funding to cover residency expenses
either by themselves or through fundraising
they find or create in their own communities
-provide suggested donation of one art work per month of tenure
which may be used to fundraise for art supplies for projects
-if skilled, provide community education
of about 4 hours per week or equivalent
(which may include prep time)
or provide assistance to community arts initiatives
(eg.weekend workshop per month, weekly talks,
or a week long workshop for two month stay)
-suggested work at their own art 4 hours per day
during project
for a min. of 16 hours per week
-contribute to a congenial retreat setting
-provide own food/shared cooking
-provide own transportation*
-provide for free basic lessons in art or lectures if able



Community organizations and benefactors are asked to:
Create Artist in our Town Projects

Support Projects
Provide Assistance to Projects
Support Arts
Support Artists

Allow Artists to Exhibit
and Sell their Work


Project creators should provide participants with contact information, detailed project information, and directions to location:
For Example:Getting to Stewart
Summer or Winter
drive, bus or fly to Terrace,
then rent car or limousine service to Stewart
Summer
,
-ferry from Seattle or Alert Bay to Prince Rupert and rent car or bus to Terrace and rent car or limousine service to Stewart

- ferry to Ketchikan and fly to Stewart on Monday or Thursday when space is available on mail plane
Projects are usually designed for watercolor artists and other painters but residencies may be organized for other artists, writers, dancers, sculptors, and all other artistic and fine crafts disciplines. Artists may enquire to see if space is available so they may be accommodated if possible although appropriate studio space is not guaranteed or might require additional charges. Other individuals could possibly book a residential retreat centre for use during cultural/scenic travel and exchange but priority will be given to artists who will be contributing to the social and artistic development of the local community.
Creators of a project should include details of the residency
including terms of residency(requirements and expectations),
housing arrangements, and information about community activities.
It would be wonderful if outside funding could be found to make the program
free to all artists and local resident participants if possible.
HERE IS AN EXAMPLE
Cost of Residency

:

$300 per month per artist based on individual booking in dorm accommodation and includes utilities providing artists willing fill the pellet stove. The house is approximately 40x70 feet with 3 bedrooms, sunroom, livingroom, diningroom, and kitchen.

The rooms all have work tables and there are additional tables for use in the large living room/workshop space.

There is seasonal work space available in an uninsulated building. Artists in the North must provide funds for their own food, art supplies, transportation, and other expenses.


Or: The residency provides free accommodation but the artist must provide
funding to cover the cost of utilities and a maintenance fee to cover cleaning costs if the artist does not do their own.
Others wishing to start similar projects are invited to
contact
Angie McIntosh for details.
Artists in our Town (R)
Is part of the network of WorldArtTours.net
"Sharing in the Joy of Creation"
(R-registered trademark pending)
SEE THE WORLD THROUGH ART MAP


C

lick on the map to see original paintings of that area by world artists