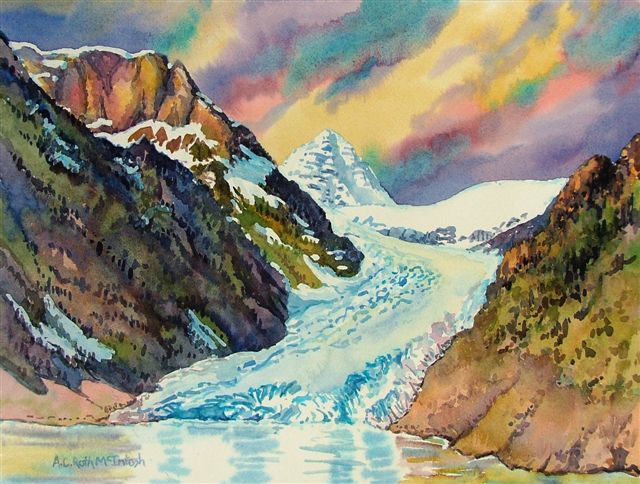 Colourful Bear Glacier
on Hwy 37 on way in to Stewart
Watercolour
Angie Roth McIntosh
Painting available at Harbourlight Store
Stewart, B.C.

Art Retreat of the North
Stewart, B.C.
Canada

The Retreat Opened Feb.2007! View the first Workshop
About the Retreat
Enjoy and paint the beauty of Northern Canada and Alaska.
Visit the Artists Retreat of the North.
Experience the pristine inspiration of glaciers, bears, eagles, mountains, and the ocean.
Delight in the friendliness of a lovely small town filled with rustic rooves, quaint inns, and charming restaurants.

Ideally situated for artists-in-residence, workshops, and retreats, the Artists Retreat of the North has 2700 square feet of room
in shared facilities that will eventually accommodate up to 11 people. Presently the accommodations are ready for small groups.

The WorldArtTours Artists Retreat of the North is also participating
in the Artist In Residence project and would like to have
an artist in residence at all times. Contact us for an application.

Plan your trip today!

Located in Stewart BC,Canada, just moments from Hyder Alaska, find inspiration in our peaceful village as you come to relax or paint on your own or with a group. Dorm and private accommodation available.